I'm thrilled to have my memoir, Crash, reviewed on the Mad in America Blog by the fine reporter, writer, and storyteller Amy Biancolli.
Crash: A Memoir of Overmedication and Recovery by Ann Bracken (Charing Cross Press)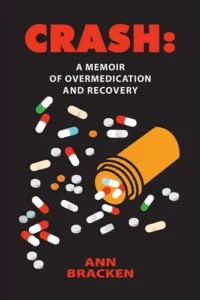 "Have you ever done everything a doctor told you, only to find yourself sicker than before you began treatment?"
So asks Bracken in the first paragraph of her memoir, a devastatingly honest, ultimately hopeful account of personal and family anguish marked by crashes both literal and figurative. She zips back and forth in time, describing both her mother's decades in the system and her own long arc of anguish and recovery—and touching on her daughter's story as well.
The multigenerational saga begins in 1959, with her mother's hospitalization for depression, and cycles through a decades-long ordeal that led to 37 ECT sessions (with minimal anesthesia) and psych drug upon psych drug upon psych drug. As a kid, Bracken had questions (where's mom? why are the grownups whispering?); as an adult, she found answers in 30 years' worth of medical documents meticulously preserved by her father.
The revelations were many. A full list of Helen Dempsey's meds in the appendix includes barbiturates. Amphetamines. Tranquilizers. Antidepressants. The benzodiazepine Dalmane. The anticonvulsant Dilantin. Beyond all those medications and ECT, Dempsey also received some talk therapy—"but I'm not sure how helpful it was for my mother to talk with her male psychiatrists," Bracken writes, "especially given the medical establishment and cultural attitudes toward women at the time."
You can read the rest of Amy's review here, and check out the other books featured this month as well.