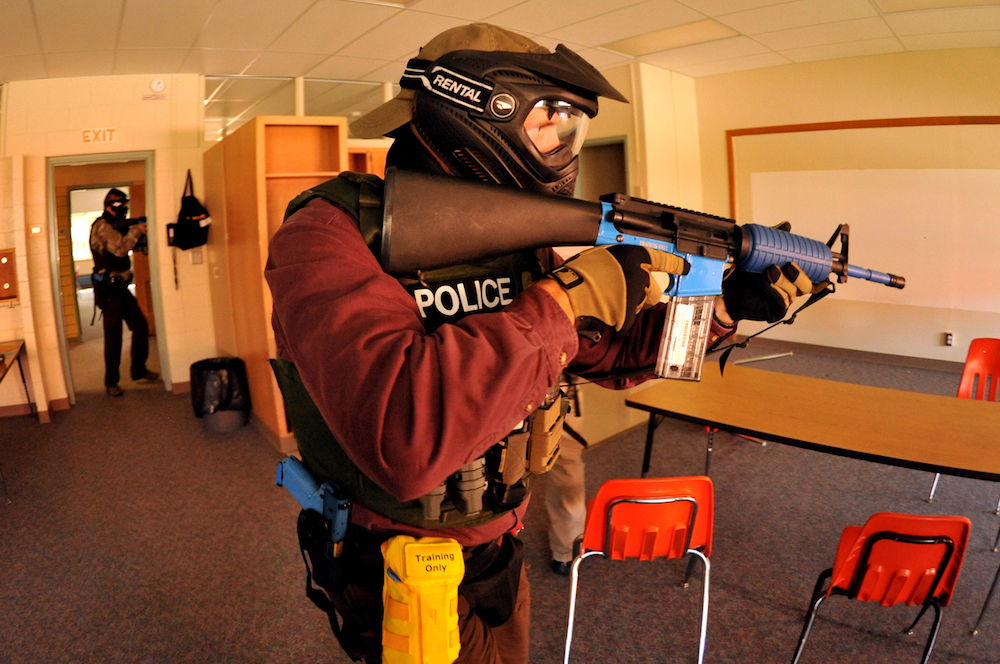 "Backing the Blue" © Staff Sergeant Susan L. Davis, U.S. Air Force
When I read the poem copied below, it jolted me back to two classes I taught at the University of Maryland in the late fall of 2015. I was in class with my students a couple of months after the Umpqua Community College shooting where a lone gunman had shot and killed eight students and an assistant professor of English and wounded seven to nine other students before shooting himself in the head. Everyone on my campus was chilled by the awful murders and yet another tragic incident of a campus shooting. The Umpqua shooting struck particularly close to home for me because I taught writing courses in the English department.
About a week after the shooting, when I wrote to the university president and the chairperson of my department to inquire about what kind of active-shooter preparedness training the university planned to provide, I was referred to the campus police.  Their response?  A video put out by the Homeland Security Department with the advice to run, shoot, or hide. It was around that time that the education section of the New York Times ran a story about a solution that the University of Maryland Eastern Shore had implemented to protect their professors–bullet-proof whiteboards that professors could hide behind in the event of a shooter in the classroom.
My response to the university's solutions? As I told my students, I couldn't imagine shielding myself behind a portable whiteboard while a shooter might be laying waste to all of them. I told them about the "run, shoot, or hide" solution, and expressed my outrage at the lack of planning on the part of the university. After discussing a few ideas that some of their high schools were implementing, we began to formulate our own survival plan.
I walked over to the classroom door and grabbed the handle. "First, we'll lock the door." It was only then that I realized the doors remained unlocked from early in the morning until about 11pm at night. We laughed nervously. "Now what?" the kids asked.  "Well, we can barricade the door with several desks and hope to keep the shooter from entering that way," a few of us suggested.
Next we had to figure out where we could gather in the classroom–we needed a place where we couldn't be seen either from the window in the classroom door or the windows that lined the back of the classroom. "We can lay down on the floor," several of the young men suggested.  "We'll have to turn off all the lights so no one can see us from the hallway," another student suggested.
What struck me that day was the matter-of-fact way my students were responding to the unthinkable–that their classroom–a supposedly safe-space for learning and discussion–could be turned into a battleground without any warning. "I don't want to have this conversation with all of you," I told them, "but as the oldest adult in the room, I feel responsible for your safety."  They thanked me for my honesty. One young woman said, "We have to talk about this. We're just glad that you're willing to make a plan with us."
Several of them contacted the president of the university on their own. One young man came up to me after class and offered to talk with his father to get his advice."My dad is a sheriff in Newtown," he told me, he's had all kinds of training."
I'm grateful that nothing ever happened on the campus when I taught there and that my students have been spared the tragedy of another Umpqua-type massacre. One of my friends emailed me earlier this year to let me know that the university was finally instituting a training program to prepare them for what to do if there's an active shooter on campus. While I'm pleased that the administration is finally stepping up to help the faculty, I'm deeply saddened at the thought of what's in store for people taking faculty development. Can't we find a better way?
Reblogging: Faculty Development Workshop
Do you know the sound of the gun?
One person raises his hand.
Locate. Leave. Live.
There is another rule, but I forget the "L" word for it,
Lock? It will make all the difference,
but I can't remember it. There is Barricade.
That's put all your junk up the wall—
and it will take that much longer for the bad guy,
he says bad guy, to get in with his gun.
But that is a "B," and I don't know the "L,"
and now I'm breathing fast
during this demonstration, trying to
relocate from my memory the fourth "L" that will
make all the difference.
Do you know much about guns?
Know the kinds of sounds each kind of gun can make?
No one raises their hand in this little northeastern college.
Do you know how to hunt? Anyone here hunt?
Do you know how to be hunted? You should run.
When should we run? After we have locked the door?
No, it depends.
When the sound of the gun is far away, you can run,
or you can stay. Really, you can stay.
You only need 15 minutes of safety. That's all.
In 15 minutes, he says, the cops will have arrived.
Let's watch this demonstration of a man
trying to break down the wall in a classroom
in which the door has been barricaded.
The classroom is six floors up, so there is no Leaving. We are working on
Live. Do you know the force of a man against a wall
barricaded with desks and empty filing cabinets and the pressure
of your feet against the chairs?
It may take 4.34 minutes, which is a good long time
to prepare to do the next thing, which is, in this case,
not to Leave, as this is not an option,
but to Live,
which is the one we are working on right now
when the gun pops into the door, between the barricade
and us. There is more to the video;
there is more to the reenactment. The barricade's fallen,
and my heart's still pounding. If only I could remember
the fourth "L," as Locate, Leave, and Live
have taken me as far as I can go now.
---
Art Information
"Backing the Blue" © Staff Sergeant Susan L. Davis, U.S. Air Force photo; public domain.
Julia LisellaJulia Lisella's poems have been widely anthologized and have appeared in Alaska Quarterly Review, Beloit, Valparaiso, Prairie Schooner, Crab Orchard Review, Ocean State Review, VIA: Voices in Italian Americana, Antiphon, Literary Mama, and more. She has two poetry collections—Always (2014) and Terrain (2007)—from WordTech Editions, as well as a chapbook, Love Song Hiroshima (2004), from Finishing Line Press.
Visit her on Twitter @julia_lisella.